Itinerary
Huay Xay – Pakbeng by Luang Say Cruise
We transfer early this morning to the border town of Huay Xay. The Luang Say Cruise boat leaves Huay Xay pier at 09:00 hrs for a cruise down the Mekong to Pakbeng. Enroute one stop is made to observe rural life along the Mekong and visit minority ethnic groups; then, a buffet lunch on board. Arrive Pakbeng before sunset and check in at Luang Say Lodge. You can then enjoy dinner on the terrace overlooking the Mekong River. Overnight in Pakbeng.
Pakbeng – Luang Prabang by Luang Say Cruise 
Full breakfast at lodge, (Optional: walk to Pakbeng market, where people from the surrounding minority villages exchange their goods). At 08:30 board the boat for the second leg of the cruise. A short stop to discover a Hmong village before having a buffet lunch on board. Continue to Pak-Ou village at the mouth of the Nam Ou River, and then visit Pak Ou Caves "Cave of a thousand Buddha's". On the way to Luang Prabang, a brief stop is made to observe the traditional process of manufacturing local rice alcohol. Arrive at Luang Prabang before sunset. Overnight in Luang Prabang.
LuaLuang Prabang – Half Day City Walking Tour
After breakfast, we visit the quaint Royal Palace Museum, which gives a good overview of the local history and features a guided audio tour. We then begin our walking tour, taking in some of Luang Prabangs hidden secrets, walking down the quiet back lanes. Along the way, we stop at Wat Chomkhong, which is known for its decorative carvings. This area contains a mix of beautiful old French Colonial buildings, and traditional old Lao houses, which you will have time to admire, along with a stop at the small but charming Wat Phapai. We also pass by the Fine Arts School, where we can see some of the quality artwork on display. Our final visit of the day is the magnificent Wat Xiengthong, with its roof sweeping low to the ground, representing the classical Luang Prabang style. Overnight in Luang Prabang.
Luang Prabang – Kuang Si Waterfall
After breakfast, we visit the local Phosi Market, this is the place where all the local's shop and your guide will show and explain to you the diverse offerings on display. We also stop at Ock Pop Tock, a silk weaving center. Here you will be given a guided tour and the silk weaving process will be explained. We then drive out of the town where you have the option of stopping to visit Khmu, Hmong, and Lao Loum villages, representing the main ethnic groups of Laos. This then takes us to the beautiful Kuang Si Waterfall where you can cool off with a refreshing swim in the turquoise pool or walk along the forest trails. Next to the falls is a Bear Rescue Centre, which does a great job in protecting and rehabilitating the rare Asiatic Black Bear. We then return to Luang Prabang by lunchtime. Overnight in Luang Prabang.
Luang Prabang – Phonsavan
We start early this morning, around 8 am for the drive to Xiengkhuang, famous for the 'Plain of Jars'. The road follows a twisty mountain route, and we make our first stop at Houi Hei, which offers great views of the surrounding mountains. We then continue Ban Kiu Kam Pone, a Khmu village to explore, before arriving in Phou Khoun for lunch. We continue on the road into Xiengkhuang province, reaching our highest altitude of the day 1500m above sea level, just after Phou Khoun. We have time to make a stop at Ban Son Boom, a Hmong village. Our final stops of the day are a reminder that this region played a major part during the Vietnam War as we visit a hidden Buddha Cave, that served as an army hospital during the war and our final stop of the day, is an optional stop to visit an old Russian tank. We arrive at your hotel by early evening. Overnight in Phonsavan​​​​​​​.
Phonsavan – Plain of Jars
This morning we visit the Mines Action Group (or MAG) office to learn about the important work they do in clearing land mines and unexploded ordnance in the area. We then drive out to the picturesque Jar Site 2 and begin a 1-hour trek along the ridge to Jar Site 3, consisting of around 150 jars located on top of a hill, offering great views. In the afternoon we visit Jar Site 1, the largest site, containing over 300 jars, before returning to your hotel by late afternoon. Overnight in Phonsavan​​​​​​​.
Phonsavan – Muang Khoun – Vang Vieng
We start early this morning, visiting the interesting Central Market, then (time permitting) driving out to the ancient town of Muang Khoun, the former provincial capital, where you can explore the ruins of a number of ancient pagodas in the Lanna style and Wat Phiawat, a ruined temple containing a huge sitting Buddha. We then travel by road to Vang Vieng, stopping for a late lunch in Phou Khoun. Following lunch, we stop at Ban Hin Ngon, a picturesque Hmong village. We also have an optional stop at Koe Kuang, which boasts a local forest market, offering edible snakes, rats, and assorted reptiles! Our final stop of the day is a short photo stop of the stunning limestone karst scenery at Phatang Mountain viewpoint. We then arrive in Vang Vieng by early evening where you have the rest of the day at leisure. Overnight in Vang Vieng​​​​​​​.
Vang Vieng – Vientiane
This morning we visit Tham Jang cave, which offers great views over the Nam Song River and surrounding karst scenery. We then set out on the road towards Vientiane. En route, we stop at Tha Heua, a small village that specializes in dried fish, which you will see hanging in front of the houses. We then continue to Nam Ngum, a picturesque popular with local day-trippers from Vientiane. Following lunch overlooking the lake, we stop over at Ban Keun, which is famous for its salt mine. Here you can learn about the daily working life of the local people. Just outside of Vientiane we make a final stop at the interesting Don Makai Market, an insect market, where, the more adventurous can try some of the tasty snacks on offer. We arrive in Vientiane by early evening. Overnight in Vientiane​​​​​​​.
Vientiane – Half Day City Tour
Your half-day city tour begins with the oldest wat in Vientiane, Wat Sisaket with thousands of miniature Buddha statues, and the former royal temple of Wat Prakeo, which now serves as a museum of arts and antiques. We then travel up Lanexang Avenue you will have the opportunity to take some pictures of the imposing Patuxai Monument, which resembles its Parisian inspiration, the Arc de Triomphe. The climb to the top offers great views over Vientiane. We continue onwards down Rue Singha 23 to Laos' National icon, and most important religious building, the golden stupa of That Luang. The final visit of the day will be the excellent COPE exhibition center, highlighting a much-overlooked aspect of Laos and a major problem many of the local people face on a day-to-day basis in the form of unexploded ordnance as a result of heavy bombing campaigns during the Vietnam War area. We then return to your hotel. Overnight in Vientiane.
Vientian - Pakse – Tadlo Overnight Tadlo
Early this morning you will be transferred to the airport for your early flight to Pakse. Upon arrival, you will be taken by road east into the Bolaven Plateau. The Bolaven Plateau is known for its cooler temperature being located high above the Mekong Valley. Our first stop is to visit Houey Ten, a village specializing in knifemaking. We then stop tea plantation, followed by a stop at Tad Fan Waterfall, a picturesque twin chute waterfall. We then make a stop at a coffee plantation, en route to Tha Teng Market, a colorful ethnic minority food market. Next, we explore a couple of fascinating minority villages, Ban Bong Neua, an Alak village that boasts a sacrificial altar, and Ban Kokphung, a Katu village where they keep coffins under their houses. We arrive at the beautiful Tadlo Waterfall in the afternoon, where you have the rest of the day at leisure. Overnight in Tadlo.
Tadlo – Wat Phou – Khong Island
After breakfast, we head out of the plateau, stopping first at the attractive Paxuam Waterfall. We then drive to Champassak and onto Wat Phou, an ancient Khmer religious complex dating back to the 5th Century. This dramatically-sited temple is one of the highlights of any trip to Laos. In the afternoon you will take the boat across the Mekong and drive south to Khong Island, the largest of the 4000 Islands where you will overnight. Overnight on Khong Island.
Khong Island – Khone Island – Don Daeng
Following breakfast, we board a local private boat for a boat tour of the 4000 Islands. We reach the picturesque island of bi and explore the island by bicycle, tracing the route of an old abandoned railway and admiring some of the old French Colonial buildings, and the beautiful Liphi Waterfall. We then return to our boat and head back to the mainland, visiting the spectacular Khone Phapheng Falls, one of the largest and most powerful waterfalls in Southeast Asia. From here we take a boat onto the Mekong to one of the few places in the world where it is possible to see freshwater dolphins. They reside in deep pools near the Cambodian border, and if you are lucky you may catch a glimpse of them. We then drive towards Ban Muang by car, then take the boat to Don Daeng, arriving there early evening. Overnight on Don Daeng.
Don Daeng – Free Day
A free day at leisure today, to relax by the pool or hire bicycles to explore the island and its enchanting little villages. Overnight on Don Daeng​​​​​​​.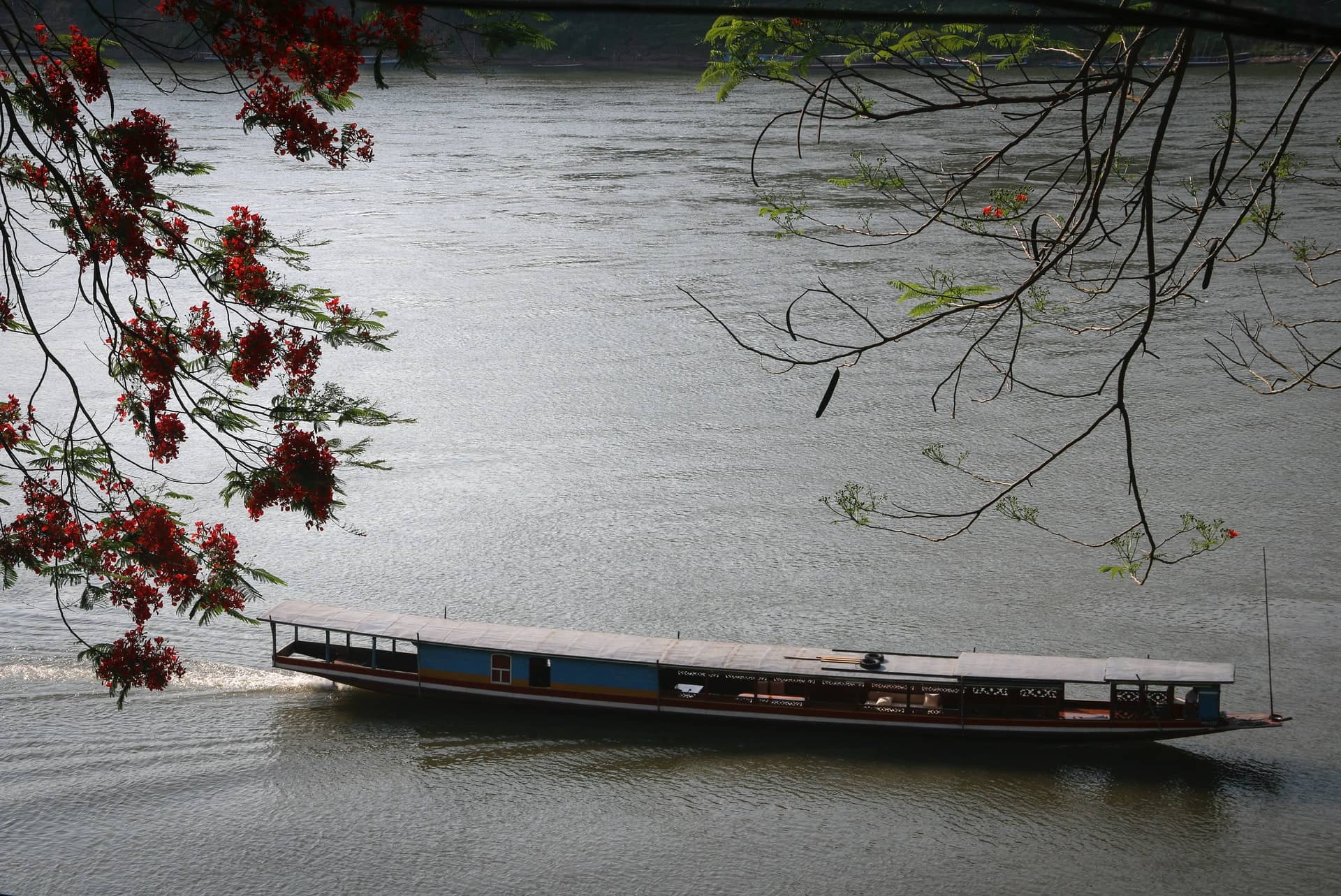 Don Daeng – Pakse –Departure
Depending on your departure flight, you may have free time at leisure, before crossing back to the mainland by boat, then onto Pakse by car to the airport for your departure.